In feminism, essentialism refers to the idea that there are innate qualities based on two different sexes. The belief that there are shared characteristics between all women has provoked accusations of reductionism by some feminists and gender theorists. This blog post questions whether 'essentialism' is fundamentally anti-feminist, and argues for the potential of self-empowerment through artistic practices inspired by this approach.
---
This week I have been researching female sexuality and representations of motherhood in art. This is a tricky issue given the feminist implications of essentialism. Judith Butler's theory of gender sought to deconstruct such essentialist thinking (i.e. that sex is rooted in biological reality). For Butler, along with the school of post-modernist-inspired feminism/gender theorists that emerged, sex did not exist, and gender was a social construction.[1] A type of artwork which explores motherhood or focuses on female genitalia (woman as 'object' reducible to her biological organs), therefore, is contradictory to post-modern concepts of gender and disastrous, in their eyes, to the feminist cause.[2]
Some early women artists, however, did not view representations of motherhood and/or female eroticism as antithetical to the feminist cause. From the 1960s, New York artist Hannah Wilke (1940-1993) attracted feminist criticism for her 'essentialist' erotic artworks. Her vulvic terra cotta sculptures transformed a biological feature, emblematic of femininity, into artwork to be gazed at by the viewer [Fig. 1].[3] Wilke later became famous for her body art works. For the S.O.S. – Starification Object Series (1974) [Fig. 2], she photographed herself topless in pin-up model poses decorated with vulvic chewing gum forms. Her beauty shaped the reception such works attracted: accusations of narcissism proliferated. For Wilke, these images were sources of empowerment; for others, these were yet more affirmations that the female body was to be gazed upon and objectified.
These debates continue to influence how art is understood and exhibitions are curated today. In Lauren Elkin's critical review of the Tate Liverpool exhibition for the Liverpool Biennial (2021), she accused the curator, Manuela Moscovo, for creating a show which represented a 'Blinkered Approach to Feminist Art'. This, for Elkin, was due to the curation of the 'more self-consciously feminist pieces on show', including Judy Chicago's Through the Flower No. 2 – 4 (1972) [Fig. 3] which 'seems to suggest, reductively, that the female body is organized around a central absence'. This essentialist criticism was then extended to critique the inclusion of Ithell Colquhoun and Linder's artworks within the exhibition.[4] The womb-centred work of Chicago along with the female sexuality represented in the other 'more self-consciously feminist pieces' were of an essentialist and 'dated' nature for Elkin: one at odds with post-modern understandings of gender and sex as a social construction which circulate today.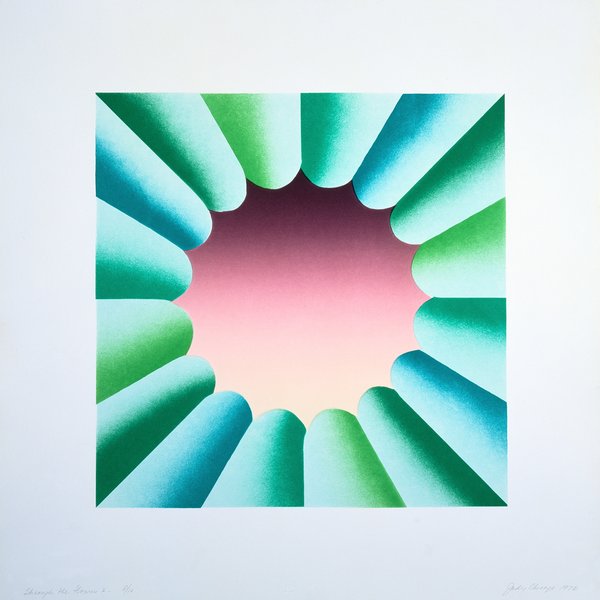 However, subscribing to essentialist discourses as always destructive may suppress the agency and empowerment of individual women artists. In her self-portrait photographs, Wilke asserted and celebrated the power of her own body. Her eyes gaze seductively as she dares the viewer to accuse her of female objectification. Therefore, the vulnerability she exhibited was not due to her nakedness; rather, it was to the torrent of feminist criticism based on feminine essentialism such images would evoke and accusations of narcissism. This distinct type of vulnerability revealed the strong personality of a self-assured individual dedicated to the pursuit of a higher thing: a true belief in the power of her art to move the viewer without the need to subscribe to, paraphrasing her own words, a fascist type of feminism [Fig. 4].
In an interview Wilke explained how 'People give me this bullshit of, "What would you have done if you weren't so gorgeous?" What difference does it make?' to which she followed with 'Gorgeous people die as do the stereotypical 'ugly.' Everybody dies.'[5] Wilke's morbid statement was not rhetoric to conceal a narcissistic intention. She continued to photograph herself until her death from lymphoma in 1993. The photographic record of her illness was published posthumously as Intra-Venus (1992-93). The demise of a healthy and physically powerful young woman into a weakened and suffering individual is an uncomfortable one to witness. In an age when politics can sometimes occlude the reality of everyday life – whether it be the last smile or conversation you have with a family relative, the diagnosis of a terrible disease, or a debilitating accident – Wilke's art reminds the viewer that they must too find empowerment within their own bodily understanding. The final photographs of Wilke continue to be beautiful, with her personality strong and empowered to the very end, and her determination revealing of the enlightenment she discovered through her own artistic practice.
---
[1] See Judith Butler, Gender Trouble (Routledge, 1990).
[2] Hannah Wilke recognised this through her 'Fascist Feminism' poster.
[3] See 'Abstract Erotic Art: Hannah Wilke's Sculptures and the Problem of Feminist Heterosexuality' in Rachel Middleman, A New Eros: Sexuality in Women's Art Before the Feminist Art Movement (PhD Dissertation, University of Southern California, August 2010) for more information about the essentialist nature of Wilke's artistic practice.
[4] Lauren Elkin, 'The Liverpool Biennial's Blinkered Approach to Feminist Art', Frieze.com 17 June 2021 [https://www.frieze.com/article/liverpool-biennials-blinkered-approach-feminist-art, accessed 19/06/2021].
[5] Marvin Jones interview with Hannah Wilke, 'Hannah Wilke's art, politics, religion, and feminism', The New Common Good (1985), 11.